Sentry Mini-Storage offers a wide variety of boxes and packing supplies for all your moving needs. We have 4 standard size boxes in sizes small through extra-large. We also carry specialty boxes, including: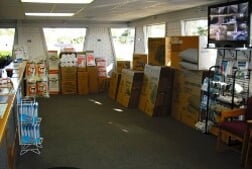 Shorty Wardrobe Box
Grand Wardrobe Box
Dish Barrel Box
19″ TV/Microwave Box
Lamp Box
Mirror Box
Additional Supplies
Ensure your valuables get where they're going, undamaged with our packing and moving supplies. Additional supplies include:
Dish Saver Kits
Glass Pack Kits
Bubble Wrap
Packing Peanuts
Wrapping Paper
Paper Pads
Packing Tape
Small & Large Mattress Totes
Shrink Wrap
Tie-Down Rope
Damp Rid Hanging Moisture Absorber
U-Haul® Truck & Trailer Rentals
Sentry Mini-Storage is a complete U-Haul truck and trailer rental dealer. We offer local and one-way rentals on all trucks, trailers, and auto transports. We also carry: Appliance, Furniture, Utility Dollies and Furniture Pads.