Our New Port Richey location currently offers U-HAUL
Sentry Mini-Storage Inc.
New Port Richey
3839 US Highway 19
Whether you're moving or you need a place to store your belongings for a while, you might find yourself needing a vehicle to transport your items. When you need a moving truck to get your things from one place to another, come to Sentry Mini-Storage Inc. for a convenient and readily available U-Haul truck rental in New Port Richey.
Make Your Move Simple
Whether you need a small trailer or a pickup truck to bring a few items to a new place or you need a large moving truck for a large move, we have options available for you. A U-Haul rental is perfect for many situations, including:
Buying furniture when you have a small vehicle
Moving into a college dorm room
Moving locally or long-distance
Taking items to a storage unit
Taking large amounts of items to the dump or charity after a large decluttering project
Transitioning to a new home or apartment
Whatever the reason you need to rent a moving truck, our friendly team will help you find the right vehicle for your needs, help you make a reservation for the time you need the truck, and answer any questions you have about your rental options. We'll make it as easy as possible for you to get your U-Haul rental so you can move your items with ease.
We also offer moving supplies to make your experience even simpler. Come to us to get boxes, bubble wrap, packing tape, tie-down rope, utility dollies, and furniture pads so you only have to make one trip to get everything you need.
Below is a list of U-Haul truck rental options we provide. Contact our expert team at Sentry Mini-Storage Inc at 727-845-1529 to reserve the vehicle or trailer you need.
8′ Pickup Truck
Home Improvement / Small Loads
Inside dimension: 7'10" x 5'2″ x 1'19" (LxWxH)
9′ Cargo Van
Apartment – 1 Bedroom / Studio / Deliveries
Inside dimension: 9'6″ x 5'7″ x 4'17" (LxWxH)
Door opening: 5'1″-1/2″ x 4'1″-1/2″ (WxH)
Holds queen size mattress
10′ Truck
Studio to 1 Bedroom ApartmentInside dimension: 9'11" x 6'4″ x 6'2″ (LxWxH)
Door opening: 5'11" x 5'7″ (WxH)
Deck height: 2'5″ Length: 9'11"
Loading ramp: None
15′ Truck
1 Bedroom Home to 2 Bedroom ApartmentInside dimension: 15′ x 7'8″ x 7'2″ (LxWxH)
Door opening: 7'3″ x 6'5″ (WxH)
Deck height: 2'9″ Length: 12'5″
EZ-Load Ramp
17′ Truck
Home up to 2 Bedrooms
Inside dimension: 16'9″ x 7'8″ x 7'2″ (LxWxH)
Door opening: 7'3″ x 6'5″ (WxH)
Deck height: 2'10" Length: 14'3″
EZ-Load Ramp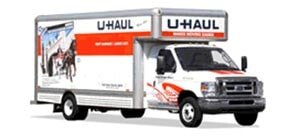 20′ Truck
2 Bedroom Home to 3 Bedroom Apartment
Inside dimension: 19'6″ x 7'8″ x 7'2″ (LxWxH)
Door opening: 7'3.75″ x 6'5″ (WxH)
Deck height: 2'11" Length: 16'8″
EZ-Load Ramp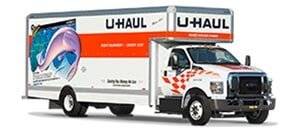 26′ Truck
3 Bedroom Home to 4 Bedroom Home
Inside dimension: 26'5″ x 7'8″ x 8'3″ (LxWxH)
Door opening: 7'3″ x 6'10" (WxH)
Deck height: 2'9″ Length: 23'5″
EZ-Load Ramp
4′ x 8′ Cargo Trailer
Inside dimension: 8'7″ x 4'7″ x 4′ (LxWxH)
Door opening: 3'1″ x 3'5″ (WxH)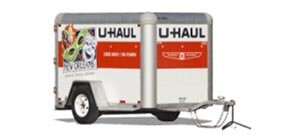 5′ x 8′ Cargo Trailer
Inside dimension: 8′ x 4'8″ x 5'4″ (LxWxH)
Door opening: 4'0″ x 4'10" (WxH)
5′ x 10′ Cargo Trailer
Inside dimension: 9'10" x 4'9″ x 4'7″ (LxWxH)
Door opening: 3'9″ x 4'0″ (WxH)
4′ x 7′ Utility Trailer
Inside dimension: 7'8″ x 3'4″ (LxW)
5′ x 8′ Utility Trailer
Inside dimension: 108′ x 51'5″ (LxW)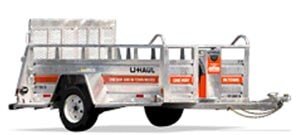 5′ x 9′ Utility Trailer with Ramp
Inside: 9'2″ x 4'9″ (LxW)
Ramp width: 4'9″
6′ x 12′ Utility Trailer
Inside dimensions: 12′ x 6'2″ (LxW)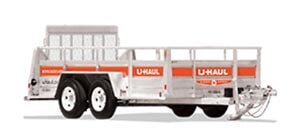 6′ x 12′ Utility Trailer with Ramp
Inside dimension: 12′ x 6'2″ (LxW)
Ramp width: 4'9″
Motorcycle Trailer
Inside: 7'8″ x 3'9.5″ (LxW)
Ramp width: 3'9″