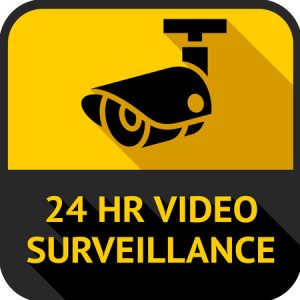 There are a lot of storage facilities out there ready and willing to shelter your excess belongings. Choosing the right one can be a struggle if you're not sure what to look for!
One of the most important components to research before committing to a storage facility is their security practices. How a company plans to safeguard the items you entrust with them indicates a lot about the quality and value of their services. Make sure you're checking for these three essential security features in your search for a dependable storage facility!
1.) Restricted Entry
You wouldn't let just any random stranger off the street walk into your house, right? So why would you feel comfortable with anyone and everyone having access to your storage unit?
A quality storage facility will have procedures in place to limit who has access to their property. Look for a gate or fence blocking off the premises to the general public. A safe and professional company will also require a code, key, or swipe card to enter 24/7.
2.) Video Cameras
Keeping records of who accesses the premises and when is a basic security tactic that every facility should employ. Surveillance technology is a must when it comes to knowing your belongings are protected and secure!
In the event of theft or property damage, archived footage will allow you to quickly determine who is responsible and rectify the situation. Visible cameras or posted signs indicating their presence is also an effective way to ward off criminals in the first place.
3.) On-Site Personnel
Video surveillance at a storage facility is great, but to really optimize safety, someone needs to be consistently monitoring those feeds! When you visit a storage facility, you should see trained and experienced staff readily available and patrolling the grounds.
You should always feel safe when entering your storage unit. The presence of security guards and on-site managers is the best way to ensure you always have a positive, secure experience at your facility. On-hand staff can also stop crime and potentially dangerous situations before they escalate.
Our top priority at Sentry Mini-Storage Inc. is the well-being of you and your belongings 24/7! At each of our locations, you'll find qualified managers, code-accessed electronic gates, and monitored video surveillance to assure you of our dedication.
For more information about our security practices and affordable rates, visit our website or give us a call. We look forward to helping your find the best storage solution to meet your needs!