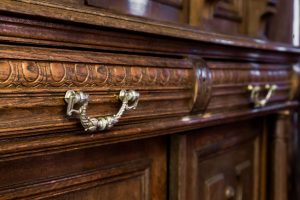 Wood furniture is a great addition to any room in the home. Wood pieces are often handcrafted and one-of-a-kind, sometimes even holding special meaning as heirlooms passed down through the family.
While wood is durable and long-lasting, it is also vulnerable if not taken care of properly. If a time comes when you need to put your wood furniture in storage, whether temporarily or long-term, it's especially important that you take the protective measures necessary to keep it in good shape. As long as you follow our tips below, you should find your valuable wood furniture in the same condition as you left in when you pick it up from storage!
1.) Clean & Treat
Any dust, debris, or moisture that is on the surface of your wood furniture when it is placed in storage can cause damage, degradation, and discoloration as it sits in your unit. Before storing, your furniture should be dusted, wiped with a slightly damp cloth, and dried completely. After you've cleaned it, coat it in a layer of wood furniture polish or wax. These waxes act as a sealant to prevent wood from drying out, absorbing too much moisture, and cracking.
2) Disassemble & Wrap
If your wood furniture can be taken apart, you should disassemble it before storing. In smaller pieces, your furniture can be more thoroughly protected and treated, as well as allow you to use your storage space more efficiently. All pieces should be wrapped with cotton sheets/cloth or moving blankets to shield them from light, moisture, damage, dust, and pets while in storage. Do not use plastic wrap to cover wood furniture, as this will trap humidity and cause moisture damage.
3) Cushion & Raise
To prevent any scratches, dents, dings, or other types of damage to your wood furniture, you should cushion it with furniture pads and extra blankets while moving and in storage. When you place your furniture in your storage unit, keep in mind that you do not want it sitting on the ground. Use a pallet to keep wood furniture raised in case of flood and to better protect it from pests. Do not store other items or boxes on wood furniture, as this added pressure could also damage it over time.
At Sentry Mini-Storage, we have a wide range of self-storage units available to store and protect your belongings until you need them again. Our climate-controlled units are ideal for sensitive items, such as wood furniture, and all units are accessible 24/7 every day of the year.
Give us a call at 727-845-1529 when you're ready to rent your storage unit!