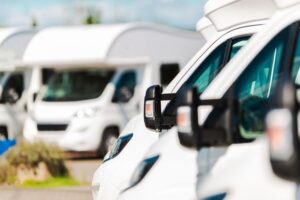 An RV is a great way to explore new places, unwind in nature, and gather the family together to make cherished memories. RV ownership is not all fun and games though; you'll also have your fair share of responsibility. For example, one significant consideration you must make when you decide to purchase an RV is where you'll be storing it.
While you do have the option of storing it at your home in your garage, driveway, or yard, an RV storage facility is often the better solution. Let's take a look at what a facility can offer for you and your RV that other storage alternatives can't!
1) Save space.
An RV takes up a considerable amount of square footage. Storing one in your garage or driveway won't leave you a lot of room for much else. If you use an RV storage facility instead, your space can be better used for parking cars, making a workspace, and storing other household items.
2) Enhance security.
Since it's such a big investment, you'll want to be sure your RV is protected from potential theft and vandalism 24/7. This will be difficult to ensure in your driveway, but a storage facility will have measures in place—such as monitored cameras, on-site staff, and a restricted access system—to keep your vehicle secured.
3) Maintain curb appeal.
Parking your RV in your yard or driveway can be an eyesore for you and the whole neighborhood. Not only will it detract from the appearance of your property, it can also cause problems with home owner's association regulations and local ordinances. Using a storage facility is a simple and convenient way to avoid these issues.
4) Protect your vehicle from the elements.
Wind, rain, snow, and sun can all damage your RV's exterior and even interior. Unless you have an especially large garage, it's going to be challenging to provide protection from the elements at home. Many RV storage facilities offer covered parking spaces to safeguard your vehicle and help maximize its lifespan.
At Sentry Mini-Storage, we offer convenient and affordable storage options for boats, trailers, and RVs in Holiday, Port Richey, and surrounding Florida areas. We have both covered and uncovered spaces, all of which are monitored through video surveillance and further protected with fencing, lights, and gates that require access codes.
Contact us today to discuss your RV, boat, or other storage needs!