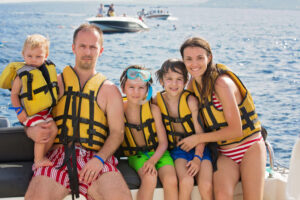 Few experiences are more satisfying in life than taking your boat out on the water to enjoy a beautiful summer day. But things can turn disastrous when proper safety precautions aren't taken. Consider the following steps before beginning your aquatic journey this year!
1) Always Wear a Life Jacket
While you're required to have a life vest on board in the state of Florida, you don't technically have to wear one at all times. However, it's wise to do so anyway. Danger can strike quickly and unexpectedly. You don't want to be caught searching through some closet for a life-saving device when it does.
2) Be Prepared for Any Emergency
There are quite a few different emergencies that can pop up when you're on your boat, so it's key to be ready to handle any of them. It's important to keep aboard safety essentials like:
Flashlight
First-aid kit
A bucket in case you take on any water
A whistle to call for help
Rope to help retrieve a passenger who's gone overboard
Fire extinguisher
It's also prudent to inspect your boat before using it for the first time in any season.
3) Don't Drink and Drive
This may seem obvious for most when driving a car, but maybe less so when talking about a boat. But the same laws apply: it's illegal to operate a boat with a blood-alcohol level at or above .08%.
4) Take a Boat Safety Course
The United States Coast Guard recommends you take a boating safety course before taking your new vessel for a spin. This way, you'll have a wealth of knowledge before even setting foot on your boat.
5) Check the Weather
Before you set sail, take a look at the weather forecast for that day. Things can always turn from delightful to harrowing in a hurry, so it's not bad to have a radio onboard to keep up with rapidly changing conditions.
Bonus Tip: It's important to provide your boat with proper storage solutions when you close it up for the season. Storing your boat in a safe place will make it less likely for accidents or thievery to happen.
If you're looking for a secure, reliable, and cost-effective place to store your boat, check out the storage options we offer at Sentry Mini Storage. Call us at (727) 845-1529 to discuss your boat storage options today!