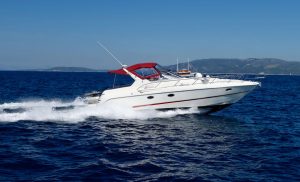 Even though we don't have to deal with the harsh winters of the north here in sunny Florida, it's still nice to feel the bite leave the ocean breeze and the temperatures rise again with the onset of spring!
Many Floridians, and people everywhere for that matter, also take this as a signal that it's time to dust off your boat and pull it out of storage. Follow the steps below to make sure your boat is water-ready in time for the next gorgeous day!
Inspect your boat thoroughly.
If you stored your boat properly for the winter, you probably won't have to worry about any damage. But it's always a good idea to take a close look at all the parts to ensure they're in good condition and determine if any extra maintenance will be necessary. Inspect all of your hoses, hinges, lights, and other components, and don't forget to look for corrosion around your electrical connections.
Get the engine ready.
You don't want to get on the water to find your engine sputtering, or have it fail midway through an excursion. Double check that your engine is functioning up to standard and perform routine maintenance. This will include changing the oil and filter, lubricating moving parts, and checking your fuel lines and spark plugs.
Clean & restock your boat.
Help preserve the value of your boat and make it safe and comfortable for the new season with a little spring cleaning before your first adventure. Power-wash hard surfaces, vacuum, dust, and polish the interior and exterior. Then, make sure you're fully stocked with quality safety equipment, such as life jackets, preservers, flares, and a working fire extinguisher.
It's never too early to start thinking about proper boat storage for next winter.
If you're looking for an easy, cost-effective, and well-protected spot to store your boat, check out the covered and uncovered storage options we offer at Sentry Mini-Storage! Our storage properties are outfitted with multiple elite security measures to protect your vehicle for as long as you need it.
Call us today at 727-845-1529 to learn more about our top-quality storage solutions!