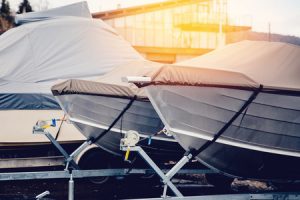 As the temperatures start to dip and Christmas decorations take over the stores, it's time to consider the most sensible option for storing your boat!
Before you settle on the best storage method for your vehicle, be sure to weigh the pros and cons of all your options. Take a moment to read through the advantages and limitations that these most common boat storage systems have to offer!
Outdoor Storage
On the Water
Keeping your boat right at the marina for the cooler months is probably the option with the least amount of hassle. There's no need to worry about land transportation and you'll be able to start the new season right away! However, you do have to consider that leaving your boat on the water means contending with potential damage from the elements. Boat slip rates can also get pricey depending on the size of your vehicle.
Outdoor Storage Lot
If you're intent on storing your boat outdoors, a land lot at a reliable facility can give you an added level of professional security you won't get at the marina. You can choose to keep your boat covered or uncovered, depending on the severity of your climate. It may require a little extra effort, but the payoff in damage protection will be well worth it!
Indoor Storage
At-Home Garage
Storing your boat in your garage is a convenient and affordable way to maintain its good condition during the off-season. It'll be safe from inclement weather and potential crime, but keep in mind that there's no guarantee it won't be exposed to rodents and other pests. Plus, keeping a boat in your garage limits the space you have available to protect other vehicles from harsh winter weather.
Indoor Storage Facility
Investing in your own self-storage unit is the most ideal solution for giving your boat a winter home! You'll be able to access your vehicle at any time, ensuring it's fully ready for the first day of boating season. You're also afforded full security from weather, pests, and potential thieves and vandals.
The storage professionals at Sentry Mini-Storage Inc. understand how valuable your boat is to you. That's why we're committed to offering several options, to meet various budgets and needs, for keeping your vehicle safe and fully intact in the off-season. To learn more about our convenient storage options and extensive security measures, call us today at 727-845-1529!