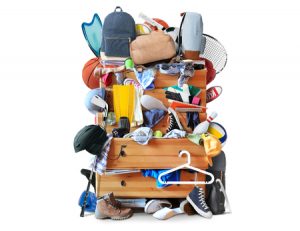 A storage facility is an excellent resource to use when you're transitioning to a new home, limited on space, or have a perpetually growing collection of items you only use occasionally. You may be reluctant to make the investment, but sometimes your need is greater than you think!
It can be difficult to recognize that you're at a point where you truly need to rent a self-storage unit. Take a moment to look around for a few of these telltale signs your belongings have outgrown your space!
1.) There's no room in your closet.
If it takes you an hour to sift through your closet to find an outfit for the day, your wardrobe is no longer functional. When your clothes are crammed so tight you can barely move them to see what your options are, it's time to call in back up.
2.) Things are starting to pile up around your house.
Has your bedroom, hallway, or home office turned into a makeshift storage unit? Make things easier on yourself by getting a real storage space! Boxes of infrequently used belongings and bulky items pile up quickly. If everywhere you turn is filled with clutter and overrun with junk, you'll seriously benefit from some additional storage.
3.) You have a lot of large, unused items lying around.
That artificial Christmas tree in the corner of your second bedroom and the old desk you just can't part with take up a lot of usable space. Extra furniture, exercise equipment, and other large investment items you can't get rid of but don't know what to do with, belong somewhere outside the home.
4.) You can never find what you need.
When you have a lot of stuff and not enough space to store it, it's hard to keep things organized. In a frenzied search for a specific item, you probably resort to tossing random possessions in your way to the side. Without an extra storage space to sort through everything, you'll just end up constantly shifting the mess around to get what you need!
5.) Your car won't fit in the garage.
Do you have a two-car garage that won't fit any of your vehicles? The garage is a go-to storage space for a lot of us. Ultimately though, you should leave yourself enough room to keep your car inside and protect it from vandalism and inclement weather.
For secure storage solutions that won't break the bank, rent a unit at Sentry Mini-Storage Inc.! Our team of professionals is dedicated to protecting your belongings and ensuring you have exactly the amount of space you need. Contact us today to learn more about our full range of superior products and services!