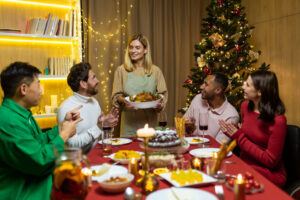 With Thanksgiving a week away and the rest of the holidays right around the corner, we are entering a very busy time of year. From preparing our home for visitors to setting up travel plans to see family and friends; we are searching for ways to make our lives easier and more organized.
Here are a few ways investing in a storage unit for the holidays can take some stress off your plate so you can relax and enjoy your time with your loved ones!
Creates More Space
If you have family coming over for a few days or weeks, you must ensure plenty of room for them to feel comfortable. That means decluttering the guest rooms and living areas. You also will be decorating for the season and will have to move your usual décor somewhere out of sight. With decorations and extra bodies taking up most of the space in your home, you could benefit from investing in a storage unit to keep your spaces looking neat and clutter-free. This will make more room for your guests and avoid you having to use your garage and closets as extra storage.
Great Place to Hide Gifts
If you have larger Christmas presents this year that you can't keep in the house, like bicycles, furniture, TVs, etc., a storage unit can help you solve this dilemma! You could even turn it into gift wrapping central, with all the supplies you need to wrap holiday presents and keep them secret. This keeps the kids from sneaking around to find their presents and allows you a space to keep all your expensive gifts safe and secure.
Perfect for Snowbirds
If you travel during the holiday season and cold winter months to visit your family in warmer climates, you could benefit from getting a storage unit. If you rent out your home while you are away, you will need a place to store your personal belongings or big-ticket items like cars, boats, or RVs you are leaving behind. A storage facility can help keep your items protected until you return.
At Sentry Mini Storage, we have the storage options you need this holiday season. From self-storage to large units to store boats and RVs, we can accommodate all your belongings, so it's one less thing to worry about.
Contact us at  (727)845-1529 to learn more about our services!