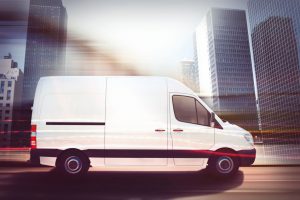 Hiring a team of movers to transport your belongings to a new home or storage unit can be pretty expensive. Fortunately, there's a more cost-efficient and convenient DIY solution that you can find almost anywhere—a U-Haul truck rental!
You don't need a special license to drive a moving truck, but it is important to keep in mind that you'll need to operate it a little differently than you do your regular vehicle. Follow these fundamental driving guidelines when you hit the road with your U-Haul!
Take your time.
The number one safety tip you need to follow when driving a U-Haul is to slow down. Bigger vehicles, especially when heavily loaded with the weight of everything you own, take longer to stop. That means you need to move slower and break earlier than you would a standard car. Drive the speed limit and take extra time to check around you and maneuver when passing other vehicles and switching lanes.
Give yourself plenty of space.
Because it takes longer for your larger vehicle to come to a stop, you need to leave yourself more room on the road to account for that extra time. Try to leave several car's worth of space between you and the vehicle in front of you, in case they stop suddenly and you need to do the same. You'll also need to take extra space when making turns—they're going to be wider than you're used to—and leave more room in front of and behind you when switching lanes. If possible, avoid narrow roadways altogether.
Navigate tricky terrains gradually.
Seeing as though you need to go slower on normal roadways, it should come as no surprise that you need to be extra cautious on more irregular terrains like hills, shoulders, and sharp corners. When climbing inclines in particular, you'll want to shift your U-Haul into lower gear to keep the truck from jerking backward. If you start to veer off the road, don't swerve or make any sudden movements with the vehicle. Instead, lift your foot off the gas and change directions slowly.
If you're planning a move for yourself or for just your belongings anywhere in the New Port Richey area in Florida, Sentry Mini-Storage has the U-Haul rentals you need to expedite the process! From pickup trucks and cargo trailers to larger trucks that can move everything in a four-bedroom home with ease, we have a vehicle that will fit your needs perfectly.
Give us a call at 727-845-1529 to reserve a U-Haul for your move!