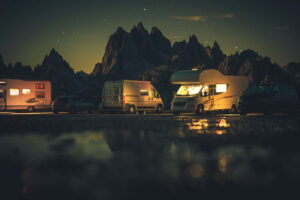 With schools quickly approaching summer break, it might be time to use those vacation days you've been saving up and take a family trip! What better way to travel and see the country than in a beautiful RV? There are many RV-friendly campgrounds and parks across America than can offer you a once-in-a-lifetime experience and leave you with lasting memories.
Here are some of the top state parks to take your RV to this summer!
Salmon Lake State Park, Montana
Tucked between two popular national parks (Glacier and Yellowstone), Salmon Lake State Park in Seeley Lake, Montana, offers the best of Big Sky Country. The forested campground is located next to the water and offers lake and river fishing options. There are only 24 sites, but each is only a few steps from the water!
Kodachrome Basin State Park, Utah
Utah's national parks get the most attention, but this beautiful state has several state parks that rival them all. Kodachrome Basin State Park is close to Bryce Canyon National Park and features a 48-site campground with amenities not usually found in the desert, such as showers and pull-thru sites.
In addition to hiking, horseback riding, and mountain biking in the park, visitors should plan to visit the nearby Grosvenor Arch. This intricate double arch, located just 10 miles southeast of the park, is one of the most impressive in the state.
Letchworth State Park, New York
Letchworth State Park is affectionately known as the "Grand Canyon of the East "and is not far from the popular Finger Lakes region of New York. It has three main waterfalls and plenty of hiking on the gorge trails between the three. With over 60 miles of trails spread over more than 20 separate trail options, the hiking options are quite varied, from easy to more difficult, short trails or long hikes that take most of the day.
This state park offers 257 campsites for RV and tent camping, and the grounds can accommodate trailers up to 50 feet in length and offer electrical hookups. Other amenities included here are flush toilets and a dump station for RVs.
Traveling in an RV is a great way to spend time with your family and visit some incredible places within the country. At Sentry Mini-Storage, we can store your RV for you once the traveling season is over so you can ensure it stays safe and secure. Our outdoor RV storage space is large enough to accommodate all sizes of vehicles. We understand just how valuable your boat or RV is to you, so we have made security our number one priority.
Contact us today at (727)845-1529 to learn about your storage options!