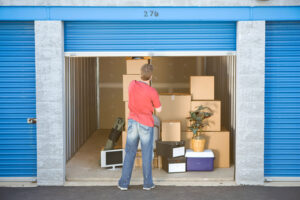 Self-storage seems like a pretty simple concept, right? For the most part, it is—rent unit, pack boxes, transport boxes, pile boxes, lock unit, and you're done. Although the process is fairly straightforward, you do need to have some forethought when choosing a unit that is right for you and your storage needs. If you don't, you could end up wasting money or with lost or damaged items.
To help you get the most out of your self-storage unit, we've identified the top mistakes people make during the rental process, so you can be sure to avoid making them yourself!
Mistake #1: Renting the wrong size unit.
One of the most common oversights people make when renting a storage unit is not determining the amount of space they need for their belongings first. People tend to either underestimate the proper unit size, usually in an effort to save money, or overestimate and end up paying for space they don't really need. Before you sign any rental contracts, estimate how much space you will truly need based on the size and quantity of items you plan to store.
Mistake #2: Not coming up with a plan for packing and stacking.
When boxing up items and piling them in your storage unit, you must be strategic and organized. Start by grouping items together in boxes deliberately. For example, packing all extra bathroom supplies in the same box or keeping old yearbooks together that you know you won't need anytime soon. Be sure to label each box, preferably with a list of its contents. Then, stack and organize boxes in your unit in a way that makes efficient use of the space, so you can fit as much in there as possible.
Mistake #3: Choosing a facility with poor security.
Too many people make the mistake of assuming a lock and a metal door is all they need to keep their stored belongings safe. Unfortunately, neither of those things will do much to stop a thief who has come prepared or an unforeseen flood. That's why you need to choose a self-storage facility with security measures in place to ensure your unit is protected from unauthorized access or emergency situations. Look for facilities with a monitored camera system, security personnel on site, and with controlled access (guarded gate, key card or code entry, etc.).
If you're in need of a self-storage unit in the New Port Richey area in Florida, you can't go wrong by choosing Sentry-Mini Storage! Our self-storage units are affordable, secure and monitored, and available in a variety of sizes to meet your storage needs.
Give us a call at 727-845-1529 to start renting today!