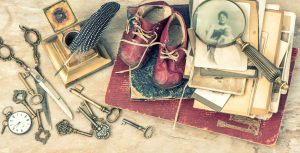 Fine artwork; China sets; furniture; photographs; jewelry; a wide variety of items can fall under the category of "antique". When you purchase, are gifted, or inherit an antique, you want to do everything you can to keep it in good condition and ensure its value is preserved.
If you're an antique collector or find yourself with an heirloom you don't really have a place for at the moment, you may end up placing one or more of these valuable items in a self-storage unit. To safeguard your prized relics, make sure you take the following three precautions when preparing them for storage.
1) Use proper packing materials and methods.
As is true for any of your belongings, proper packing is crucial to protecting antiques from sustaining damage in transit or while stored. Because these items are so high in value, using the right materials and techniques when storing them is even more critical. When packing your antiques for storage, be sure to:
Use designated boxes for mirrors, artwork, & lamps
Protect antique upholstery with plastic wrap or furniture covers
Cover glass items securely in bubble wrap and pad boxes
Disassemble antique furniture
Clean items thoroughly and treat/polish materials such as wood and metals
Don't stack boxes inside your unit (or if you have to, place larger items on the bottom and off the floor)
2) Opt for a climate-controlled storage unit.
Valuable and delicate items like antiques need to be protected from extreme temperatures and humidity. Too much moisture, heat, or cold (depending on the materials) can warp the original structure of the item that makes it so valuable in the first place. A climate-controlled storage unit is a must to prevent this type of costly damage.
3) Choose a storage facility with ample security.
One of the reasons many people prefer to keep antiques in a storage unit instead of a garage or other household spot is for added security. Typically, antiques are very high in value, which makes them enticing to potential thieves. To ensure your antiques are safe in storage, choose a facility with effective security measures in place.
Look for a facility that has monitored video surveillance, on-site staff to patrol and respond to suspicious activity, and that restricts public access by requiring a keycard, code, or other secure method for entry into the facility and individual units.
At Sentry Mini-Storage, keeping your belongings—antique and otherwise—safe, secure, and in the same condition in which they arrived is our number one priority. Contact us today to ask about our $1 move-in special and get started with your own self-storage unit today!