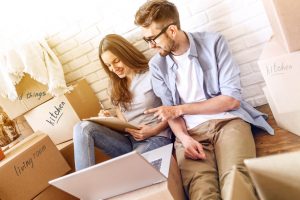 Humans have a tendency to accumulate a lot of stuff over time. Especially when you have an entire house to fill, you probably own a lot of items that you won't remember acquiring until you stumble upon them accidentally. When you add a self-storage unit to the mix, it gets even more difficult to keep track of everything as it's packed away in boxes.
It's important to remember what you move to storage and which box it's in, so you can quickly grab it when you need it again. Try one of the methods below to help you keep an organized inventory of your storage unit!
1) Make a spreadsheet.
Spreadsheets are a handy way to create an itemized list of everything in your storage unit. If you don't have Microsoft Excel, you can use a free spreadsheet tool like Google Sheets. Simply label each box in your unit with a number, then make a column or even a separate spreadsheet for each one. List which items are inside and any important details like their value, condition, etc. Keep a master copy of your list and print one to put in each box as well.
2) Take pictures.
It can be hard to describe certain items well enough to identify them by words alone. If you're worried written inventory descriptions won't be helpful, take photographs of each item or groups of items going in the same box instead. You can include these in your spreadsheet for a visual reference or organize them into albums on your phone or computer, titled with the corresponding box number.
3) Use an app.
In a world ruled by smartphones, there's an app for everything—including storage organization! There are plenty of apps available that you can use to easily create an inventory list that is always at your fingertips. A storage tracking app will be easy to customize, access, and update as needed. Sortly, Inventory+, and Encircle are a couple of popular ones to check out.
Looking for a secure self-storage facility to hold and protect your excess belongings in the New Port Richey area? Sentry Mini-Storage has the low rates and quality amenities you need! When you store your items with us, we'll make sure they're always safe and accessible to you.
Give us a call at 727-845-1529 to rent your self-storage unit today!