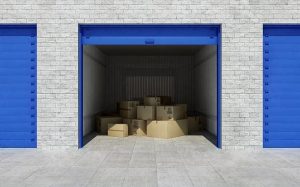 Keeping your living space orderly can be a challenge. It's difficult to manage and use your belongings when it's too crowded to easily find them or when you're constantly moving them between different locations.
Luckily, self-storage offers a convenient and flexible alternative for keeping track of your possessions and staying organized. Check out the great benefits you can expect when you invest in your own storage unit!
1.) Easy access.
A self-storage facility is a convenient option for people with time-restricted and temporary living situations. You can quickly store and retrieve your belongings without any hassle or stress as soon as you need to. This type of storage is particularly helpful for long-distance college students in between semesters, frequent travelers, and traveling businessmen!
2.) Keep your belongings safe.
When push comes to shove for household storage space, most of us are guilty of unceremoniously shoving lesser-used items to the back of the cupboards and under the basement stairs. Storing your items in stuffy, unclean spaces puts them at risk for environmental damage—negative effects from moisture and temperature changes, settling dust and debris, and even insect or rodent infestation!
Secure your valuables in climate-controlled units to keep them in good condition. Not to mention, enjoy the added peace of mind that comes with multiple layers of theft protection.
3.) They're cost-effective.
It's a common misconception that storage units are too expensive for most people to afford. In reality though, a storage facility is a much cheaper alternative to constantly moving your possessions back and forth between locations! Plus, self-storage costs are flexible based on how much space you need and how long you'll need it.
4.) Stay organized.
Optimize the appeal and functionality of your living space with a separate, designated storage area! Declutter your home so it's easier to maneuver and keep tidy and attractive. Removing infrequently-used items from your everyday household will free up that space for you to enjoy. A storage unit used for those belongings specifically will help you keep them organized and easily accessed when you need them.
At Sentry Mini-Storage Inc., we're committed to offering you the highest quality storage solutions to satisfy your space and budget needs! Our goal is to provide clean and efficient facilities and build trust with each of our customers. Give us a call or stop by today to learn more about our amenities and how we can help you take control of your space!