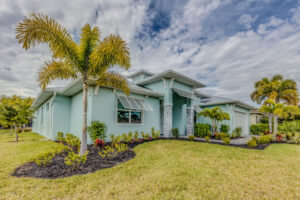 With summer on its way, it's time for the Florida snowbirds to start making their way back up north. Although it would be nice to simply turn off the lights, lock the door and be back next winter, there is a lot that needs to be done to get your home ready for your absence.
Summer in Florida comes with higher temperatures, humidity, and lots of rain which can often lead to mold, mildew, rust, and unpleasant odors. Those are just a few of the problems you could face when you return in the winter if you don't properly prepare your space.
Here are some tips to help get your Florida home ready for summer!
Clean Out Your Refrigerator
A house full of rotting food is not exactly the kind of welcome you want when you return to your space next winter. Between the heat of the Florida sun and your A/C not running at full capacity, the hot and moist air might create mold and mildew growth. Before leaving, be sure to empty and clean any spills or residue in your refrigerator.
Turn the Water Off
Before turning off your water, ensure you run all faucets (showers and tubs included) to flush the system. You may also want to quickly clean your sink trap with a snake and clog remover. Also, unplug the water heater or turn off the breaker to save energy while you're gone.
Prepare the Outside of Your Home
For Florida, summer is the rainy season, so clean out the gutters or drainage systems that might have debris stuck inside. Look along the walls and edges of your home for any cracks or holes in caulking around windows and doors. If you find any, have them repaired immediately. It's also a good idea to schedule routine pest control while you are gone to ensure there are no unwanted visitors when you return.
Put Important Items in Storage
If you have expensive electronics, instruments, artwork, or any other valuable items that you do not want unattended in an empty house, rent a storage unit to ensure your items are safe and secure until your return. You might even want to store outdoor furniture that you do not want to be destroyed by the elements while you are away.
At Sentry Mini-Storage, we can provide you with safe and secure self-storage units for all your winter home items. Our climate-controlled units help preserve items like wood furniture, guitars, and documents, and all our storage facilities are under video surveillance for extra protection.
Call us today at (727)845-1529 to get your winter items packed away safely!