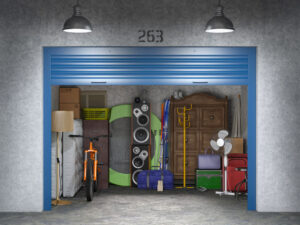 Whether you're in the process of moving, are remodeling your home, need space for visiting guests or anything in between, short-term storage is the ideal solution to store belongings.
When you store items for the short term, you won't be locked into any long contracts and will only be paying for what you need. If you only require storage for a month, or something slightly longer, consider a short-term storage option.
Once you've found the right facility use these tips to make the most of your storage situation.
Make a general timeline
When you're in the process of moving but your new home is not quite ready to be moved into, you may be looking to store items for a month or so. Many self-storage facilities offer month-to-month rentals which are ideal as you can easily re-up for another month or pack up your belongings after your contract is up with no hassle.
If you're downsizing or have certain items that you no longer want in your home, then you may want to consider long-term storage. With this option you can often get a discounted price when signing up for a longer term.
Make sure you have all your essentials
With short-term storage, you'll most likely be storing many of your everyday items. Because of this, it's important to consider what you'll need as you go about your daily life over the next month or so.
Since you may be staying with friends or family for a few weeks until your new home is ready, or are packing and storing items from your bedroom, bathroom or other space, you should make your best effort to only pack up things that are not needed.
Your goal should be to make as few trips to the storage unit as possible. We suggest creating a checklist of items you will need on a day-to-day basis. If you are unsure if you'll need to come back for a certain item, then you should leave that box closer to the front of your unit for easy access.
Consider a climate-controlled unit
If you are storing valuables that can be damaged or warped due to heat or other weather, you should consider a climate-controlled storage unit. Even if you are just leaving your items in storage for a month or two, this will give you peace of mind that your wood furniture, instruments, art and important documents will remain just as they were.
When you're in need of short-term storage for your belongings in New Port Richey, FL or the surrounding areas, we ask that you think of our experienced storage team at Sentry Mini-Storage.
We have provided mini-storage facilities for short-term use for over 30 years and are proud to have become such a trusted part of our community. No matter how long you wish to have your belongings stored with us, we'll find a plan that's right for your needs. Call us at 727-845-1529 today to learn more.