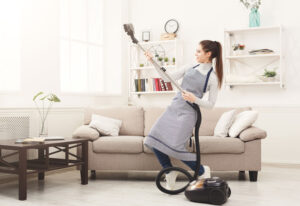 As we make our way into the promising new season, it's time to do a little spring cleaning around your home. Giving your space a deep clean a few times a year can improve the overall air quality, helping those who suffer from seasonal allergies. Spring cleaning can increase your productivity by creating an organized and welcoming environment.
Here are some tips to get the most out of your spring cleaning this year!
Work from Top to Bottom
It's important to start from the ceiling when beginning your spring cleaning. This will force debris downward and keep you from having to re-dust or re-clean your space. If you have a vacuum with an extension hose, use it to first get cobwebs and dust from your ceilings and fans. Then dust your furniture and other items before vacuuming all the dust and debris off your floors to save you time.
Avoid Harsh Chemicals
Start spring off on a clean note and avoid exposing yourself to harsh chemicals and toxins. Try using a steam cleaner to clean your floors, bathrooms, and outdoor areas. Steam cleaners use hot water vapor, and they are 100% chemical-free. If you don't have a steam cleaner, one of the best natural combinations for disinfecting is white distilled vinegar, baking soda, and water. These ingredients are affordable and a great non-toxic option.
Declutter
A disorganized home can increase stress levels and make you feel unproductive. Identify problem areas, analyze reasons for the clutter, determine solutions, and implement them. It's best to move clutter out as soon as possible, whether packing up a donation box full of old clothes, planning a yard sale, or moving items into storage.
Spring is the time for cleansing and decluttering your space, creating a fresh environment for the busy months ahead. At Sentry Mini-Storage, we can provide you with secure storage units for all those extra items taking up too much space in your home. We promise to provide you with clean, ready-to-rent units to keep your belongings safe and protected until you need them again.
Call us today at (727)845-1529 to learn more about our secure self-storage units!