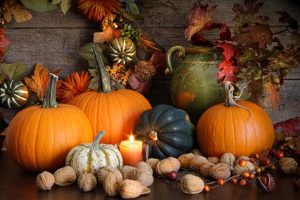 From plastic Halloween pumpkins to Santa suits, you have more holiday gear than you know what to do with and that only makes an appearance once a year. Instead of filling your basement with boxes of bulky items, take a look at why and how to store your holiday items.
Why Store Holiday Items?
There's one obvious reason for storing holiday décor, costumes, and other items – to save space. That is, if you have heavily invested in enough in the holidays to make your basement look like its own storage facility.
Along with space saving issues, an off-site storage solution also comes with these benefits:
Save money. Smaller homes and apartments typically aren't big on storage. This makes it tempting to toss your holiday gear each year. Instead of wasting money on every holiday annually, simply store your seasonal stuff.
Organize items. Bagging up a mix of Halloween and Christmas clothes or tossing 12 months of wreaths into a box makes it easy to lose precious items. The more space available, the more room you have to organize your holiday items into separate boxes, bins, and bags.
Preserve everything. Some families hand down costumes and holiday décor. Instead of worrying that the kids will get into your bag of costumes (or worse, moths will), use off-site storage to easily keep these items neat and damage-free.
Save time. A well-organized storage unit makes it easy to move and remove items. This reduces the time it takes to find each season's holiday décor.
Now that you know the whys of storing your holiday stash, it's time to learn about the hows. Proper storage techniques can make the difference between an efficient, organized experience and one that doesn't go as planned.
How Should You Store Holiday Items?
Storage of holiday items comes down to two main parts – organizing décor/items and safely storing costumes. Starting with the décor, follow these easy do's:
Choose a method. An organizational strategy can make your life easier, adding efficiency to the packing and unpacking processes. Select a method that seems workable for you and your family. This might include creating storage stacks by month, holiday, or season.
Separate items. Sort out wreaths, window clings, keepsakes, and other decorative items for each holiday. Group the items according to type and holiday – such as a box of Christmas candles or a bin of Halloween cut-outs.
Seal everything. Keep moisture out and freshness/neatness in by sealing boxes tightly. If possible, use plastic storage bins. These are easier to seal and less messy to open than cardboard.
Label the outside. Right now, you remember that the red bins equal Christmas décor and the orange ones are Thanksgiving. But don't rely on your memory for every item. Use a sticker and a permanent marker to clearly label each box and bin.
Create an inventory. Along with labeling the items, inventory them. Make a spreadsheet or use an app as an easy organization strategy.
When it comes to costumes, the do's to follow include:
Clean first. Thoroughly wash all clothing, masks, and accessories prior to storage. Leftover food/drink particles can attract pests. Stains can set over time, making them impossible to remove later on.
Dry thoroughly. After cleaning, always thoroughly dry fabric and other costume items. Moisture can result in mold or mildew damage.
Use silica. Silica gel packets help to remove the moisture in storage boxes and containers, making it less likely that your costumes will grow mold.
Choose a plastic bin. Instead of a garbage bag (which allows costumes to wrinkle) or a flimsy cardboard box, a plastic container provides a sturdy storage option and is also easy to open.
Organize efficiently. Again, choose a storage strategy. Keep each costume together (all the components in one box), make separate bins for wigs, masks, and clothing, organize by family member, or pick another option that works for you and your family.
With all of your holiday gear in storage, you'll have plenty of room for everyday items. Periodically check on your stored décor and costumes, taking only what you need for the season.
Do you need a storage unit? Contact Sentry Mini-Storage Inc. for more information.