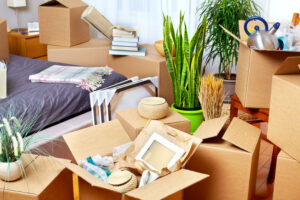 As a college student, you're probably no stranger to the joys of dorm room living. Late-night study sessions, newfound freedom, and limited space are all part of the experience. However, fitting all your belongings into a space that's often no bigger than a bedroom can be a real challenge. Luckily, storage units offer a great solution to this problem!
Whether you're a freshman or a returning student, here's why utilizing a storage unit can help you make the most of your dorm room space.
Assist with Limited Dorm Space Challenges
Most college dorms have the essentials: a bed, a desk, and maybe a small closet. Now, think about everything you've accumulated over 18+ years of living: clothes for every season, keepsakes, sports equipment, books, and maybe even a mini-fridge or microwave. It becomes evident that a dorm room may not provide ample space for everything to fit comfortably.
Provide Flexibility During Living Transitions
During your college years, you will probably move several times. Whether it's from one dorm room to another, off-campus housing, or even a semester abroad, the transitions can seem never-ending. Having a storage unit lets you keep non-essential items safe and easily move them from one place to another. This will make your moves easier and more flexible.
Allow You to Swap Out Seasonal Items Easily
While the weather can be a bit unpredictable, it's unlikely that you'll need to break out your winter boots or heavy coats until the seasons change. If you're struggling to fit all your clothes into a small closet, consider storing your off-season apparel in a storage unit. This will help you keep your wardrobe up to date without any unnecessary clutter. When the seasons do change, it'll be easy to do a quick swap and keep your wardrobe current.
Offer a Home for Hobby Gear
If you are involved in sports, music, or other hobbies, you likely have equipment that can take up a lot of space—for example, football pads, guitars, or art supplies. A storage unit can be a great solution to safely store these items when they are not in use.
Ensures Your Peace of Mind
Having a reliable storage unit can bring you a sense of security. You can rest assured that your possessions will be safeguarded from harm and available whenever you require them. This peace of mind is invaluable, particularly during the hectic college years.
If you're looking for a practical, reliable, and affordable solution to your storage woes, look no further than Sentry Mini-Storage! Discover our range of self-storage units, moving supplies, and U-Haul rentals that could make your transition to college even more seamless.
Contact us at (727)845-1529 to learn about our unique services today!