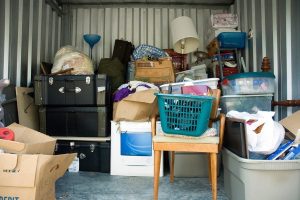 Pests are one of the few things that can ruin your personal belongings while they are in storage. With the right measures in place, you can prevent pests, from ants to mice, from getting into your storage unit and ruining your personal belongings.
Clean the Storage Unit
Before you move your items into your new storage unit, clean and disinfect the storage unit top to bottom.
You will need a bucket, mop, basic soap, and a broom. Clean the dust off the ceiling and walls, then use the broom to sweep out the storage unit. After dusting, mop the storage unit, starting from the top. Use the mop to clean the ceiling, walls, and floor of the storage unit.
Starting with a clean base is one of the best ways to keep pests out of your storage unit.
Clean Everything You Put in Storage
You also want to clean everything before you pack it up and put it in your storage unit. You don't want to store dirty items; dirt, oils, and food crumbs can attract pests, even when they are on items that are boxed up.
Use Plastic Storage Boxes
It is easy for pests, such as mice, to chew through cardboard boxes and get at whatever you have stored inside. Instead of storing your items in cardboard boxes, store your items inside of plastic bins. Since plastic bins are made from inorganic material, they are much tougher for pests to chew through.
When using plastic bins, line the bottom and sides with acid-free paper. The acid-free paper will counteract any potential build-up of moisture inside of the plastic containers.
Keep Food Out of Your Unit
Do not store any food inside of your storage unit. The storage of food items is prohibited by storage facilities because food, even non-perishable items, could potential attract pests.
Keep items that contain food-based ingredients or scents out of your storage unit as well. One item people often overlook when it comes to the no-food rule are scented candles. Scented candles smell good not only to you but to rodents as well.
If you want to keep your storage unit rodent-free, give away your scented candles to your friends or donate them; don't put them in your storage unit.
Store Items off the Floor
Next, do not put your items directly on the floor of your storage unit.
Instead, put pallets on the floor. Pallets will help elevate your belongings off the floor and ensure your belongings don't get damp from moisture that naturally collects on the concrete floors.
You can also set-up wire storage shelves for your boxes. Wire storage shelves take up little space, keep your items off the floor, and keep your storage unit more organized.
Use Pest Repellants
Use pest repellant agents such as diatomaceous earth in your storage unit to keep pests away. Diatomaceous earth is white sedimentary rock. It helps repel a variety of pests, from cockroaches to dust mites to ants. You can sprinkle diatomaceous earth inside of your unit.
You can also set up an ultrasonic pest repellant device inside of your storage unit. The device lets out high-frequency sound waves that harm the hearing of pests such as mice. The device creates an uncomfortable environment that sends pests fleeing from your storage unit.
Rent at a Well-Taken Care of Storage Facility
Finally, one of the best ways to keep pests out of your storage unit is to choose a clean and well-taken care of storage facility. Look for a storage facility that appears clean and well taken care of inside and out. A clean storage facility is less likely to have pest issues than a run-down facility.
If you need to rent a storage unit where your belongings are going to be safe, give us a call at Sentry Mini-Storage Inc. today. We offer clean and safe storage units where you can keep your personal belongings.