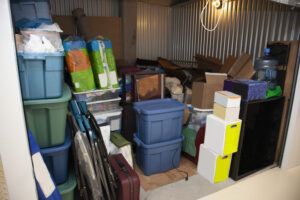 The spring season is here, so it's time to clean and organize our living environments, preparing them for the busy summer months ahead. The storage unit often gets neglected or becomes the place we put all our extra items, slowly hoarding away without ever doing a proper decluttering. Spring is the perfect time to go through our storage units, ensure they remain in good shape, and prevent them from getting too cluttered and chaotic.
Here is some practical advice to help you perform a proper spring cleaning in your storage unit!
Set Yourself Up for Success
You must come prepared and be in the right mindset to perform a proper spring cleaning in your storage unit. Ensure you set enough time aside for a thorough deep clean and organization. Enlist the help of your family and friends, as it's easier to do this job with more than one person. Come with garbage bags and vehicles that can help you move things out if need be. This extra preparation and planning will ensure a successful experience, and you won't have to return later to finish!
Don't Be Afraid to Get Rid of Items
Chances are that a good number of items in your storage unit you've completely forgotten about and have no use for anymore. While cleaning and decluttering, don't be afraid to set aside stuff that can be donated, thrown away, or given to a family member or friend who needs it. Plans change. Sometimes we move and put a sofa into storage, thinking we might need it for our next home, and it doesn't fit or work with our aesthetic anymore. Sometimes we put clothes into storage, and by the time we get around to sorting them out, we've outgrown them. There are so many reasons you may no longer need items you have previously put into storage, so now is the time to rehome them so they can get used for their intended purpose and not sit around collecting dust.
Important Note: Be sure you remove any liquids or food items, including pet foods, as these items can attract pests and should never be kept inside a storage unit!
Redesign Your Unit
When you finish cleaning out your unit and are ready to put back the items you have decided to keep in storage, it is best to plan where everything will go first. If you haphazardly put your items back in without organization, things will get messy and cluttered again. You may want to organize your boxes so there's an aisle in between with labels facing out, so they can be easily seen and identified, or you can store things by category, size, importance, etc., whatever works for you.
Pro Tip: Take a photo or write a detailed map of what is in the unit so you can look at it for reference at home. This will help you avoid a trip to the unit to see if something you're looking for is there.
If you discover you need a storage unit while performing your spring cleaning this year, Sentry Mini-Storage has self-storage units for all those extra items taking up too much space in your home. We have climate-controlled units that help preserve items like wood furniture, instruments, and documents while also offering standard ventilation units in various sizes.
Call us today at (727)845-1529 to learn more about our secure self-storage units in New Port Richey, FL, or surrounding areas!