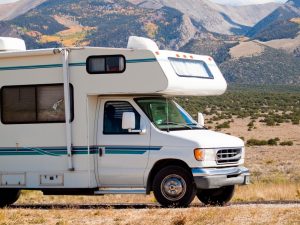 If you're an avid camper, cross country traveler, or outdoorsman, you likely rush to pull your RV out of storage at the first sign of spring. Even if you take the proper measures to store your vehicle for the winter, it's probably going to take a little elbow grease to get it ready for your first outing.
Thoroughly cleaning and sanitizing your RV at the start of every season is crucial to keeping it in optimal condition for years to come.
Here are a few cleaning tips to help ensure you can truly enjoy everything your RV has to offer this year!
The Exterior
Tip #1: Start from the top and work your way down.
Your job will be much easier if you let the soapy water run down your vehicle and get a head start for you. Grab a ladder and a long-handled brush and start scrubbing the roof, then hit the walls, awning, windows, and tires until the whole thing is shining!
Tip #2: Make sure you're using the right products.
Dish soap might be your go-to for a DIY car wash, but it can actually strip away the gel coating on your RV and leave an unwanted film in its wake. Instead, mix baby shampoo with water and a little bit of vinegar for a gentler, but still effective, solution.
Tip #3: Don't forget to wax.
What's the point of all that time spent scrubbing if you don't seal in your hard work at the end? Waxing is an important step to the cleaning process, as it helps preserve the finish and protect your RV exterior from holding on to other dirt and debris.
The Interior
Tip #1: Avoid harsh chemicals.
Ammonia-based products and other abrasive formulas can damage and scratch the vinyl paneling, countertops, hardware, and fixtures in your RV's interior. To keep them in good shape, you'll want to stick with mild soapy solutions and basic all-purpose cleaners.
Tip #2: Focus on the bathroom and kitchen.
Although you should clean and sanitize the whole of your RV's interior, pay some extra attention to these two areas. Kitchens and bathrooms in any living space typically see the most traffic and as a result, accumulate the most bacteria, dirt, and grime.
Tip #3: Carpets and upholstery should be cleaned professionally.
While you should have no problem tackling regular maintenance and upkeep, your RV's carpeting and upholstered furniture need to be cleaned by a professional at least once a year. These can be tough areas to thoroughly sanitize, as they tend to really hold onto dirt and debris, and greatly contribute to maintaining the quality of your RV's interior for its maximum potential lifespan.
When you store your RV for the off-season with Sentry Mini-Storage, you can feel confident that you'll be able to enjoy your vehicle for many years to come. Our secure storage solutions—including restricted lot access, fences with unique security code entry, and an advanced video surveillance system—will ensure your RV is kept safe and well-monitored year-round.
Contact our team today to learn more about how we can care for your RV when you're ready to pack it up for the season once again!