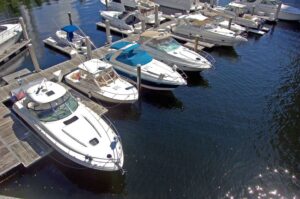 The Gulf Coast covers over 600,000 square miles, extending along the northern coast of Mexico, Texas, Louisiana, Mississippi, Alabama, and western Florida. It's an ideal environment for amateur and elite fishing, water sports, and cruising, and the waters are usually much warmer than the rest of the Atlantic.
If you have recently moved to the area or are finally ready to make your way out onto the open water, you need a boat that can handle the Gulf Coast's Sea conditions.
Here are some of the best kinds of boats for Gulf Coast waters.
Sail Boats
Sailboats are great recreational boats and very versatile, but they take a lot of experience and knowledge to operate properly. If you are looking for a new hobby or a challenge, the gulf coast is the perfect place to learn sailing. Sailboats have become more affordable over the years, and exploring the warm waters with your friends or family is an incredible way to bond and make new memories.
Flat Boats
Flatboats are common in coastal areas, as they are economical and can navigate in waters less than two feet deep. Their hull design cannot handle the rougher conditions associated with offshore boating, but they are perfect for leisurely activities like cruising, fishing, and relaxing with your loved ones.
Convertible Fishing Boats
Convertible fishing boats are the best option if you need a boat designed for a full day on the water. These boats have plenty of storage space and cabin accommodations for overnight trips. Their higher structure, high sidewalls, and live-on amenities make these the classic offshore fishing boat.
Bay Boats
A classic bay boat can handle backwater fishing along with some venturing out into offshore waters. If you need to get through canals, shallow waters, or hard-to-reach fishing spots, this is the boat for you. The ability to adjust the height of the boat's engine depending on the depth of the water is like the design of flat boats, but it has higher sides to withstand rougher waters.
No matter what boat you choose, you will need a place to store it when the off-season comes. At Sentry Mini-Storage, you can store your boat in an uncovered or covered storage space with 24-hour surveillance and access to your boat anytime.
Contact us at (727)845-1529 with questions or to learn more about our services!