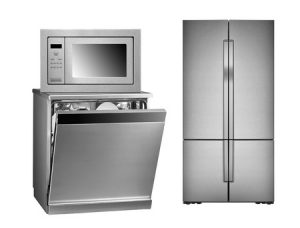 Keeping extra and unused appliances around the house is impractical and, more often than not, nearly impossible. These large items take up a lot of space in your garage or basement and are usually too heavy and bulky to carry upstairs to an attic or spare room.
Thankfully, self-storage is a convenient and affordable solution for protecting your appliances both short and long-term. To keep your appliances in good working condition and ensure they are ready to use when you need them again, follow the best practices below as you prepare them for storage!
1) Clean & drain appliances before placing them in storage.
Large appliances such as dishwashers, washer/dryers, and refrigerators don't come cheap. Leftover dirt and moisture in appliances sitting in storage can cause damage, deterioration, mildew, and insect infestation over time.
Preserve the value and quality of your investments by thoroughly cleaning and drying them—and all internal and external components—before storing them. Don't forget to use an insect spray to prevent pests too.
2) Wrap appliances securely.
Protect your appliances from dirt, debris, scratches, dents, and other potential damage during transit and their time in storage by wrapping them before relocation. Use wrapping film and moving tape to fully cover the exterior, and blankets to provide extra padding.
If the appliance has removable parts, such as glass shelves in a fridge, those should be stored and wrapped separately as well.
3) Get a climate-controlled storage unit.
Appliances are very susceptible to changes and extremes in both humidity and temperature. If they are not kept in a consistent climate, these fluctuations can damage internal parts and stop the appliance from working altogether.
A climate-controlled storage unit is the safest solution when it comes to storing your appliances.
4) Store appliances in the back of your unit.
To keep them out of the way and make other, more frequently used items easily accessible, place your appliances in the back and up against the sides of your storage unit. Raise them off the ground with pallets if you can (or at least put down a blanket or tarp) and prop the door open. This will help reduce the risk of moisture buildup, mold growth, and insect infestation.
For more than 30 years, Sentry Mini-Storage has been dedicated to helping you protect your most valuable belongings with our premier self-storage solutions. Give us a call today at 727-845-1529 to secure your own unit and ask about our move-in specials!