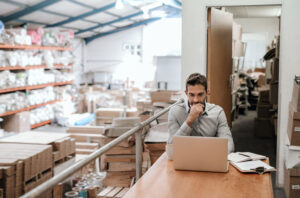 Self-storage can come in handy if you're based out of a home office or have a dedicated business space. By renting commercial storage, you can maximize your available workspace and keep everything from business documents and inventory to equipment organized.
Here are four ways your business can benefit from a self-storage unit!
1) Reduces Clutter
Crowded office spaces can be bad for business productivity and organization. There's less room to move around, and it's easy for important items to get lost among the clutter. By renting a storage unit, you can clear out inventory, files, equipment, and more things that aren't needed for day-to-day operations.
2) Provides Security
Self-storage units are perfect for storing all sorts of commercial goods that need to be insured by yourself or your business. They have insurance on file, so if anything were to happen, the damage would get taken care of quickly.
Having important items out of harm's way from burglary or theft in a self-storage unit can keep your business running without interruption in an emergency.
3) Lowers Expenses & Allows Flexibility
If you need more space for equipment or inventory but not for your business operations, renting a business storage unit might make more financial sense rather than upgrading to a larger office space.
Self-storage units do not require long-term contracts. You can pay on a month-to-month rental basis which offers maximum flexibility for you and your business. If you run a business that needs seasonal space, then a self-storage unit is the only option that makes sense. For small businesses, flexibility is key!
4) Easy Access
Many self-storage facilities provide convenient features like drive-up access that allow you to pull right up to your space for simple unloading and loading, saving you time. Some storage facilities even offer 24/7 gate access, so you can stop by your storage unit whenever it works with your schedule.
At Sentry Mini Storage, we can provide a safe and secure place for you to store your business items. Our climate-controlled units can help preserve your important documents, and access is available seven days a week, 365 days a year!
Call us at (727)845-1529 to learn about our available units.