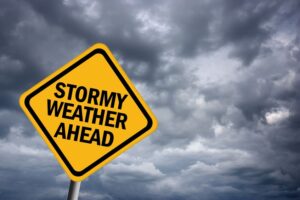 Every year, the Atlantic hurricane season in the U.S. runs from June 1 through Nov. 30. And during every hurricane season, people who live in hurricane-prone places like Florida worry about how to keep their belongings safe.
Taking the following precautions can help protect your possessions if you live in a hurricane zone!
Choose a Storage Facility
If possible, choose an indoor unit in a concrete facility to reduce the chances of wind and rain damage. If you don't have the option of an indoor unit, be aware that there is a risk of damage, and take precautions. Most storage insurance will cover natural disasters. Remember to check with your insurance agent to determine your "off-premises" coverage and whether your facility offers a tenant protection plan.
Use Pallet Boards and Tarps
Place a tarp on the pallet board to create a barrier between your items and the floor. This will keep your items from getting damaged by moisture that may seep up from the floor. Use pallet boards to elevate your items off the floor.
Stack Important Items High
Be strategic with the layout of your storage unit. Stack items that mean more to you are expensive or are more sensitive on top of items you care less about.
Store Potentially Dangerous Items
Be cautious with items that could turn into projectiles during a storm. For your safety and that of your neighbors, store the following items during hurricane season:
Gardening and power tools
Patio and lawn furniture
Lawn and gardening décor
There may be certain items that you regularly use, like your grill, that you don't want to store away. If possible, keep those items in your garage.
Keep Your Vehicles Safe
Instead of leaving your vehicle outside or in your garage during a hurricane, consider a storage unit. Many facilities have spacious vehicle storage for your car, truck, boat, or RV. This will protect your vehicle from being damaged by anything that becomes a projectile.
At Sentry Mini Storage, we have the storage units you need to keep your belongings safe and secure through hurricane season. We have you covered, from self-storage units to RV and boat storage!
Contact us at (727)845-1529 for more information regarding our storage options.