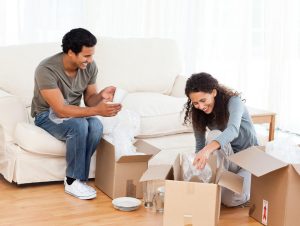 Whether you're moving and need to store your personal belongings while you transition to a new home, or are trying to make extra space in your current house, you'll most likely need to pack away a few fragile items. While you'll want to treat all of your personal effects with care, these delicate pieces will require a bit more effort to ensure that they stay in good condition.
When storing your delicate items, carefully arrange the boxes in the unit so that they don't topple over. Clearly label everything that's in the boxes using a permanent marker, and place the writing facing out so you can see it. Leave a bit of room between the boxes so that you can move around the unit if needed, and put the items that you may need towards the front of the space.
Here are a few more tips for safely and effectively packing and storing fragile items:
1. Wrap the Pieces
If you pack away any glass, porcelain, or other breakable items, such as plates, tea cups and pots, mugs, glass figurines, picture frames, or mirrors, wrap them individually. You can use either white packing paper or bubble wrap, depending on what you have on hand.
Secure the paper or wrap with a piece of packing tape so that it doesn't come undone while in storage. In a pinch, you can also use newspaper to wrap the pieces, but be cautious as the ink can stain light-colored items, such as a white vase.
When it comes to packing artwork, wrap each piece in acid-free tissue paper before using the packing paper or wrap. Place a piece of cardboard in between each painting or drawing when putting them into the boxes as well.
2. Pack the Boxes
After securely wrapping your delicate belongings, place them snugly into moving boxes. If you need to, wad up pieces of newspaper and slip them between two items, such as mugs or glasses, to make sure they don't move around during transport.
You can also use cardboard dividers to safely support tea cups, cups, plates, and other fragile kitchenware. Be careful not to place too many items into each box, since that will make them too heavy to carry. Use several smaller boxes rather one or two larger ones to hold delicate pieces.
Also, this isn't the time to use flimsy cardboard boxes to save money. Opt for sturdy boxes made of heavy-duty cardboard for best results. You may be able to find boxes made specifically for holding fragile items as well.
3. Label the Boxes
After sealing the boxes closed with packing tape, use a black permanent marker to write the word "fragile" on each side of the boxes. This is to alert the movers as to what's inside, as well as remind you while they're in the storage unit. You can also either tape pictures of the contents to the boxes, or write a detailed list on the front of each box.
4. Store the Boxes
If a climate-controlled storage unit is available, take it. This is especially important if you live in a humid climate and are storing delicate paper or fabric items, which are prone to damage from moisture, mold, and mildew.
Place the boxes containing the fragile items on top of the others so that they don't get crushed. Heavier boxes should be on the bottom, with lighter ones resting on top.
If you need a small storage unit to hold your belongings for any length of time, contact Sentry Mini Storage Inc. to view one of our spaces or to inquire about availability.